1

Abstract¶

This technote reassesses the authentication and authorization needs for the Science Platform in light of early operational experience and Data Facility developments, discusses trade-offs between possible implementation strategies, and proposes a modified design based on opaque bearer tokens and a separate authorization and user metadata service.

This is not a risk assessment, nor is it a detailed technical specification. Those topics will be covered in subsequent documents.

Warning

This tech note discusses the original motivations for a redesign of the identity management system for the Rubin Science Platform. It is primarily of historical interest in understanding the motivating background for subsequent identity management design work. The design presented here has been substantially revised and is no longer accurate in its specifics, although the general principles remain accurate.

This is part of a tech note series on identity management for the Rubin Science Platform. The primary documents are DMTN-234, which describes the high-level design; DMTN-224, which describes the implementation; and SQR-069, which provides a history and analysis of the decisions underlying the design and implementation. See the references section of DMTN-224 for a complete list of related documents.
2

Motivation¶

At the time of writing (mid-2020), we are operating a functional but not feature-complete Science Platform service in the Data Facility at NCSA for internal project use and in support of early community engagement activities (Stack Club, for example). This service includes a functional Authentication and Authorization (A&A) service designed by the Data Management Architecture team. This service operates as a layer on top of services, security models, system capabilities, and infrastructure constraints provided by NCSA. We are motivated to revisit some aspects of the design and implementation of our A&A strategy in the light of the following developments:
Early operational experience has highlighted some engineering and usability pain points with the current approach that are ripe for optimization, such as the complexity of juggling multiple types of tokens.

Some existing decisions were driven by pragmatic requirements to integrate with existing NCSA services, such as the University of Illinois LDAP service, and other infrastructure constraints. For example, currently Science Platform accounts must also be NCSA accounts in order to integrate with NCSA-provided storage services. We are now more driven by the need for the Science Platform deployment to be well-separated from the specifics of the underlying infrastructure in order to support a smooth transition to a different Data Facility provider, possibly via an interim Data Facility for Early Operations.

We have had an emerging requirement to provide additional (albeit partial) Science Platform production deployments, such as at the Summit facility. Those deployments will need to integrate with different infrastructure and will have additional connectivity constraints, such as supporting authentication and authorization during an interruption of the external network and providing authentication for the Engineering Facilities Database APIs.

The addition of a Security Architect to the SQuaRE Team and its Ops-Era counterpart have afforded us the opportunity to consider some options that previously would have been ruled out by lack of suitable engineering effort to design and implement them.
3

Problem statement¶

The Science Platform consists of a Notebook Aspect and a Portal Aspect accessible via a web browser, APIs accessible programmatically, and supporting services underlying those components such as user home directories and shared file system space. Science platform users will come from a variety of participating institutions and may be located anywhere on the Internet. Primary user authentication will be federated and thus delegated to the user's member institution.

The following authentication use cases must be supported:
Initial user authentication via federated authentication by their home institution, using a web browser.

New account creation must depend on the user's institutional affiliation. Some users (such as non-US users) will require manual approval.

Initial user authentication via a local OpenID Connect service for the Summit Facility deployment.

Ongoing web browser authentication while the user interacts with the notebook or Portal Aspects.

Authentication of API calls from programs running on the user's local system to services provided by the Science Platform.

Authentication to API services from the user's local system using HTTP Basic, as a fallback for legacy software that only understands that authentication mechanism.

Authentication of API calls from the Notebook Aspect to other services within the Science Platform.

Authentication of API calls from the Portal Aspect to other services within the Science Platform.

Authentication and access control for sharing data files with user-defined groups of collaborators. The shared files must be accessible from the local system, the Notebook Aspect, and the Portal Aspect of any collaborator. The current project design uses a POSIX file system with a WebDAV access layer on top, relying on WebDAV as the access mechanism from the user's local system and the Portal Aspect.

Authentication of some mechanism for users to share, copy, and programmatically access files from their local system into the user home directories and shared file systems used by the notebook and Portal Aspects. The current project design requirements call for WebDAV to be this mechanism.
API services within the Science Platform will generally be IVOA Virtual Observatory services, but there may be others that go beyond the VO standards.
We want to enforce the following authorization boundaries:
Limit access to the web interface (the notebook and Portal Aspects) to authorized project users.

Limit access to some classes of data to only users authorized to access that data.

Limit access to administrative and maintenance interfaces to project employees.

Limit access to home directories to the user who owns the home directory and platform administrators.

Limit access to shared collaborative file systems to the users authorized by the owner of the space. This in turn implies a self-serve group system so that users can create ad hoc groups and use them to share files with specific collaborators.

Limit user access according to various quotas (CPU, query volume, storage capacity, etc.).

Users can create long-lived tokens for API access.
4

Proposed design¶

This is a proposed design for authentication and authorization that meets the above requirements. All aspects of this design are discussed in more detail in 5   Design discussion, including alternatives and trade-offs.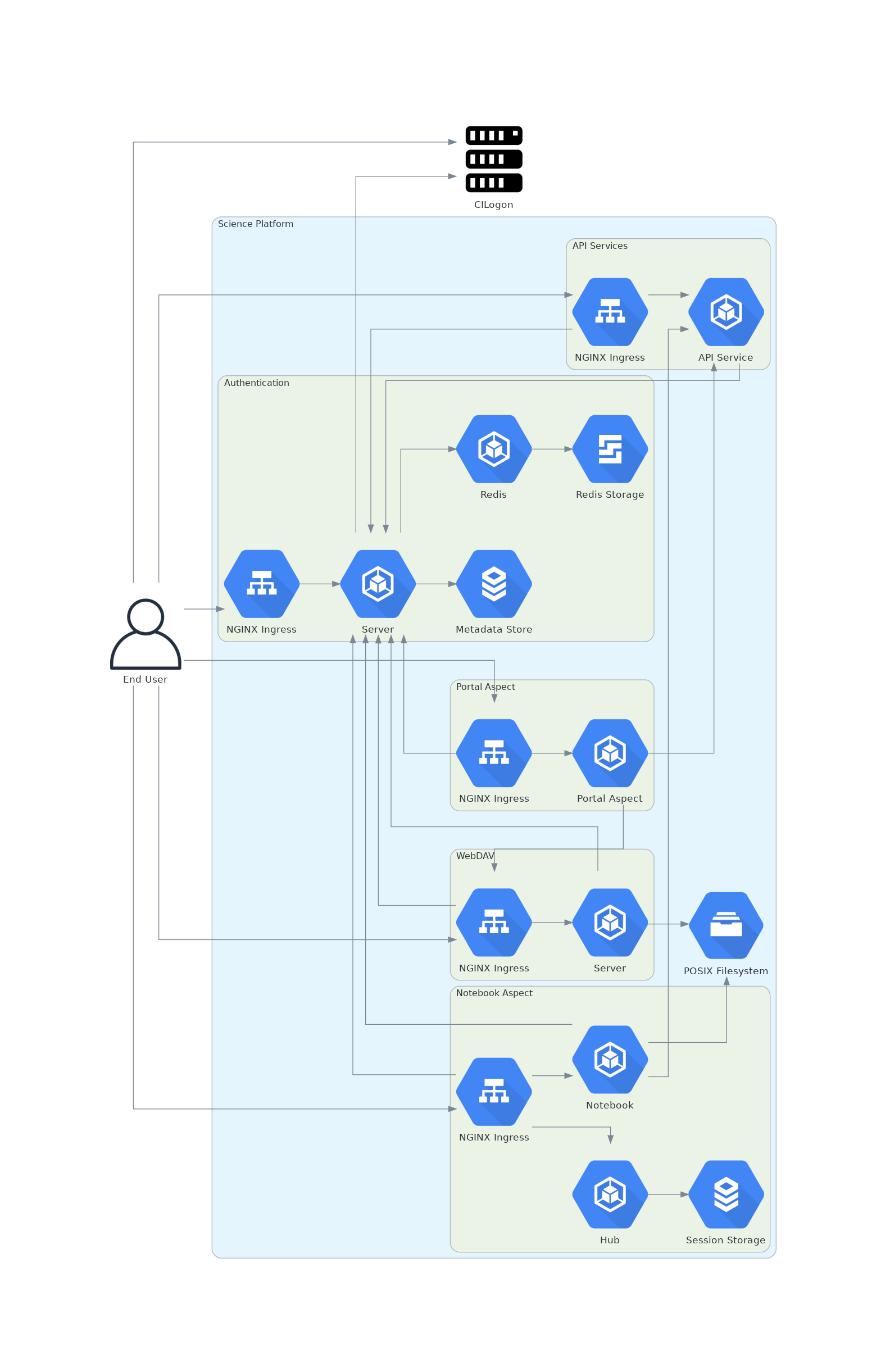 This is a high-level description of the design to inform discussion. Specific details (choices of encryption protocols, cookie formats, session storage schemas, and so forth) will be spelled out in subsequent documents if this proposal is adopted.
As a general design point affecting every design area, TLS is required for all traffic between the user and the Science Platform. Communications internal to the Science Platform need not use TLS provided that they happen only on a restricted private network specific to the Science Platform deployment.
6

Open questions¶
Will the Science Platform need to provide shared relational database storage to users with authorization rules that they can control (for example, allowing specific collaborators to access some of their tables)?

Will the Science Platform need to provide an object store to users with authorization rules that they can control (for example, allowing access to their objects to specific collaborators).

How do we handle changes in institutional affiliation? Suppose, for instance, a user has access via the University of Washington, and has also configured GitHub as an authentication provider because that's more convenient for them. Now suppose the user's affiliation with the University of Washington ends. If the user continues to authenticate via GitHub, how do we know to update their access control information based on that change of affiliation?

Will there be a need for cross-cluster API authentication? In other words, is there a need for API credentials issued from an authentication system living in one Kubernetes cluster to be used to access services in a different Kubernetes cluster?

Can all of the web-accessible components of the Rubin Science Platform be deployed under a single domain, or will there be a need for cross-domain web authentication?